Sustainability Reporting
Sustainability reporting is an excellent way for organisations to understand their environmental and social performance and to drive positive improvement.
Leading companies recognise that publicly reporting on sustainability performance is much more than a corporate communications exercise. It is a powerful tool to help them enhance their sustainability strategy, have meaningful engagement with stakeholders, direct performance improvement, reveal vulnerabilities and enhance their corporate reputation.
Our understanding of internationally recognised sustainability reporting frameworks, including the Global Reporting Initiative (GRI) and the International Petroleum Industry Environmental Conservation Association (IPIECA) framework, enables us to deliver high quality, tailored reporting services that meets the needs of a diverse range of sectors.
We can assist with all the stages in the sustainability reporting cycle including:
Sustainability awareness training
Stakeholder mapping and engagement
Materiality analysis
Data collection and quality assurance
Performance analysis and benchmarking
Report design and content development
Report launch, disclosure support and collation of feedback
Key Performance Indicator (KPI) target setting
Why us?
We have advised our clients in over 50 countries and bring a strong understanding of the local environmental, social and political setting for balanced and robust sustainability reporting.
We develop sustainability reports using expert knowledge in key fields such as air quality, energy, climate change, ecology, water, waste, social and environmental management systems.
Sustainability Reporting Cycle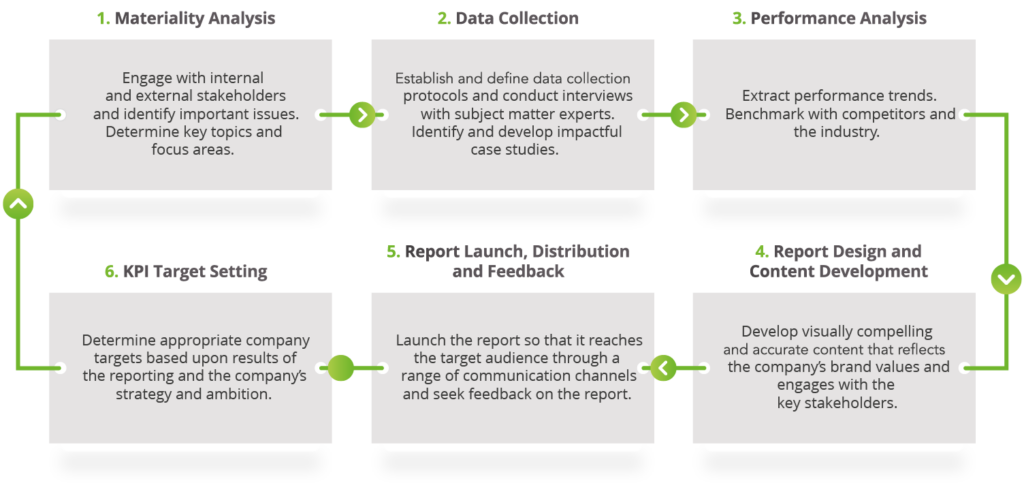 Our team has extensive experience of developing sustainability reports for a wide range of clients:
Abu Dhabi National Oil Company (ADNOC) – UAE
Abu Dhabi Oil Company (ADOC) – UAE
Abu Dhabi Polymers Company (Borouge) – UAE
ADNOC Distribution – UAE
ADNOC Drilling – UAE
ADNOC Offshore – UAE
ADNOC Refining – UAE
ADNOC Sour Gas – UAE
Emirates National Oil Company (ENOC) – UAE
Equate Petrochemical Company – Kuwait
Fertiglobe – UAE
Group Five – South Africa
Oman Oil Refineries and Petroleum Industries Company (Orpic) – Oman
Qatargas – Qatar
Saudi International Petrochemical Company (Sipchem) – Saudi Arabia
Telkom – South Africa
TOTAL-ABK – UAE
Total Facilities Management Company – South Africa